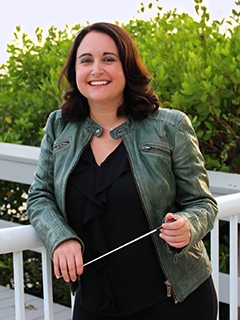 Margaret Flood is currently the Coordinator of Music Education at Florida Southern College, where she teaches various music education methods classes and is the supervisor and coordinator of all music education interns and field studies students. She is also a doctoral candidate in music education at the Frost School of Music, where she recently served as a graduate teaching fellow. Margaret is a 2019 Theodore Presser Graduate Award Recipient and founder and director of the 2020 Frost Young Women Conductors' Symposium. In 2019, Margaret was presented with a National Band Association Project Grant to also help fund this event. During her time at the Frost School, she performed clarinet with the Frost Wind Ensemble and studied conducting with Dr. Amanda Quist and Maestro Gerard Schwartz.

Margaret is an active researcher, recently publishing in the Florida Music Director and has a forthcoming chapter included in The Routledge Companion to Women and Musical Leadership: the nineteenth century and beyond, which is part of her larger research project documenting the lives of women band leadership of the Florida Bandmasters' Association. Her dissertation uses discourse analysis to examine the code-switching tendencies of secondary band directors during rehearsals.

Prior to returning to her graduate studies, Margaret taught music for eleven years in Florida and New York. She is an avid woodwind clinician, studio instructor, and adjudicator throughout the state of Florida, where she has also received the Florida Music Educators Association Enrollment Award. Margaret holds degrees from Syracuse University (B.M. '04) and The Florida State University (M.M.E '07), as well as a Graduate Certificate of World Music from the FSU College of Music, where she was awarded the Ada Belle Winthrop-King Scholarship for studies in Portuguese language and culture, and for her dedication to research on Brazilian music. Her research focuses on documenting the lives of women conductors, conductor code-switching, clarinet pedagogy, and social projects for women musicians in Brazil.
Margaret is an active presenter of research and practice, most recently presenting at the 2020 International Society of Music Education Research Commission, the Women In/And Music Leadership International Conference, the Florida Music Educators Association annual conference, the Desert Skies Symposium, and the National Association for Music Education bi-annual practitioner conference.